From: $299.00 / month and a $249.00 sign-up fee
With the Promote Plan you will be able to reach out to your customers and actively request reviews. Both via an email app and an in store kiosk mode. The Promote Plan will always inform you via email and online dashboard when someone has left feedback about your business. In the event that you receive a negative review, we will assist you with how to handle the situation. We will start by reviewing your current reviews and feedback, then compare these with your top ten competitors and put together a review strategy moving forward. We also will provide assistance with your Google My Business reviews each month.
Included with our Promote Plan are the following:
30 min Initial Consultation
Initial Brand Analysis
Competitor Reputation Analysis
Review Feedback Quick Links
Google My Business Review
Assistance with Negative Reviews
Monitoring Biggest Sites (15+)
New Review Email Notifications
Live Online Review Monitoring
Generate Online Reviews
Proactive Review Survey Campaigns
Campaign Feedback Score Chart
Campaign Feedback Funnel
Competitor Reputation Monitoring
Purchase of this service indicates acceptance of all our Terms & Conditions
Review Monitoring Dashboard
Our Reputation Monitoring Dashboard pulls in reviews from most major review sites like Google, Facebook, Yelp, Trustpilot and many others. Please note that you have to have an account with each review site and provide us with the login for the Dashboard to be most effective. Please contact us if you need us to setup any of the review accounts.
The Dashboard will also notify you via email when you receive a new review on any of your linked sites. This will enable you to quickly identify any potential issues and respond accordingly.
After the completion of the setup phase, you will be provided a link to your Live Dashboard. Most new reviews post within 24 hours.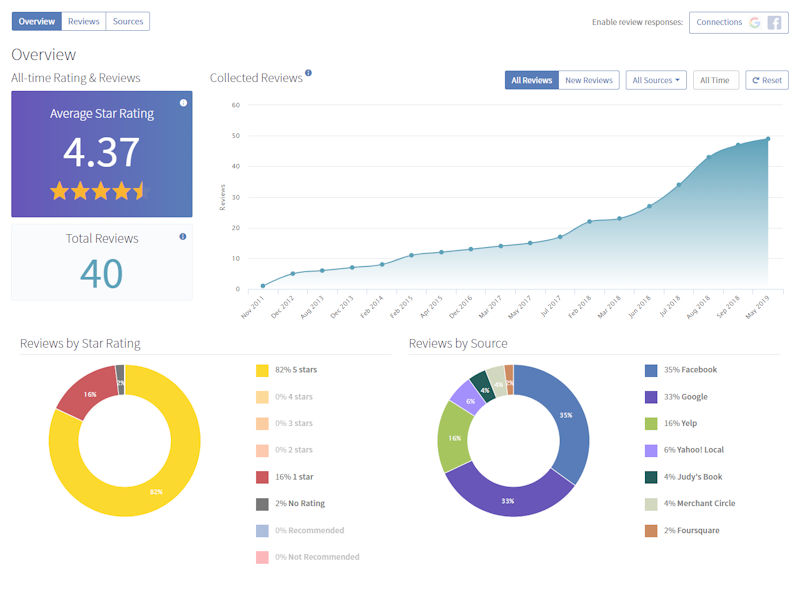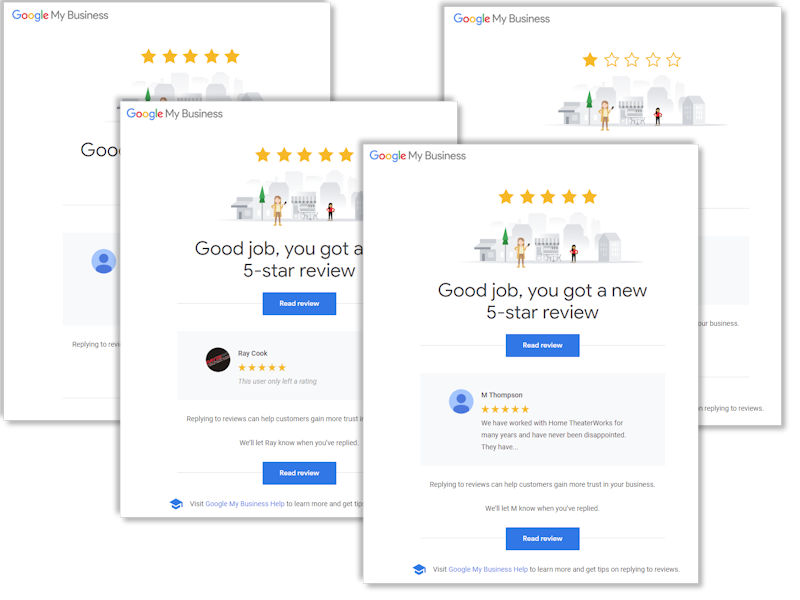 Rapid Notifications
Staying informed and current is one of the most important aspects of maintaining a good reputation, so the Monitor Plan will notify you when a new review is posted to one of your connected sites.
This will enable you to quickly check the review and decide the appropriate method you should take to respond effectively.
Responding rapidly to negative reviews can influence the customer to reverse their review in many cases.
Responding to Reviews
Responding to a review is a great way to highlight and push the review to the top of the list. Google's algorithm functions with the idea that most businesses will respond to important reviews; therefore, they are worthy of promoting and keeping them on top.
Responding to your best positive reviews is a good way of keeping these on top. Providing a simple thank you to your customer can be sufficient. This also lets potential customers note that you pay attention to your reviews.
Responding to negative reviews should only be your last resort. Don't engage with dissatisfied customers online, but rather attempt to resolve your differences offline.
With our review management platform, we provide an easy way to respond directly to Google and Facebook reviews.
Request Feedback from Customers
Our Promote Plan helps you obtain and manage valuable feedback from every customer and turns those frowns upside down!
Make it easy for customers to provide feedback
See which customers had a positive or negative experience
Manage negative feedback by offering promo codes
Turn negative experiences into positive ones
Get positive testimonials to use on your site and social media
Also comes with a Kiosk mode for obtaining feedback in-store using an iPad or computer.
Set Your Response Scores
The Promote Plan review feedback email platform is fully configurable. We can set the score (between 1 and 10) at which point you determine when feedback becomes negative. This will depend on which page is shown next, prompting your customer to continue to leave the same feedback on up to 3 selected sites like Google, Facebook, Yelp, or others.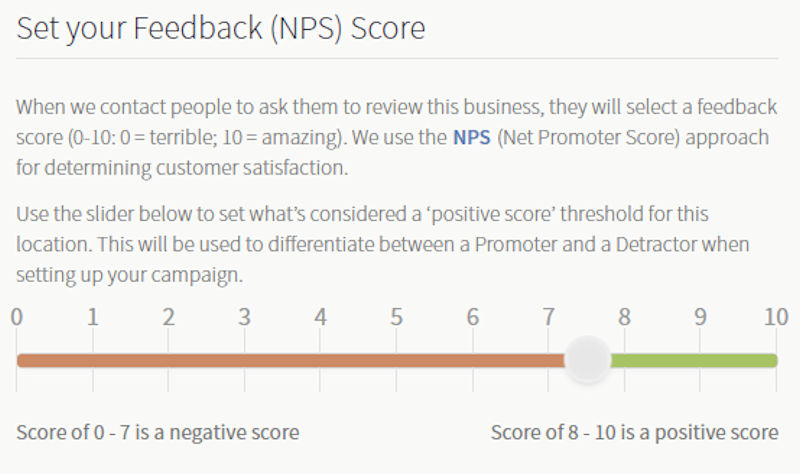 Competitor Review Audits
Knowing the standing of your competitor's reputation will give you that competitive edge to help you develop your digital marketing strategy better.
We research your top 10 competitors and keep tabs on their feedback and reviews, compiling these into an overall reputation report each month.
We then compare your competitor's reputation with your reputation and provide suggestions on how to best move your business into the lead.
Review Response Assistance
As part of our Promote Plan, we are available to assist you with any feedback responses that you need help with.
We are available via email, phone, and chat during our regular office hours.
Get in Touch
(469) 840-4480
info@mylocalrize.com
Open Hours
10 am - 4 pm  M - F
Our Locations
Dallas, TX
Longview, TX
Shreveport, LA
Indianapolis, IN